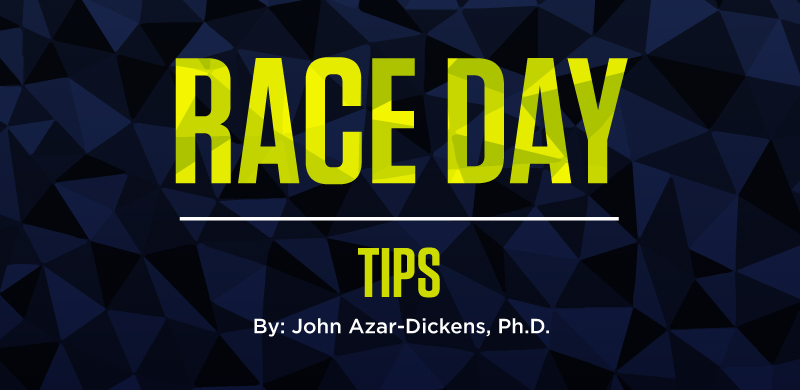 Arrive Early
The campus is bustling that morning and it may take some time to park.  A great way to throw off your mental game is to arrive late and be rushing to get to the start.  Arrive early and take your time…have a nice warm up and give yourself some time to use the restroom one last time, etc.
Don't Do Anything Different
Remain very loyal to your training regimen.  Don't try any new foods, new drinks, or any atypical activities that differ significantly from what you have done during training.  The best way to screw yourself up is to eat or drink new things.  Just stick to what you are used to and what has been tried and true to this point.  This is especially the case if you are running the half.
Don't Go Out Too Fast
At the beginning of the race, the group is moving very quickly.  It is easy to get caught up in the excitement of the start and find yourself going out way too fast.  Keep a close eye on your pace and stick to your training.  The exception to this is as you are moving along the distances and find yourself feeling very good and with the mindset you can increase your pace. In this case, go for it! It is far better to temper your start and finish strong than to go out too quickly and crash at the end.  Listen to your body as the race proceeds and respond accordingly.
Keep Things in Perspective
The ultimate goal for all of us, regardless of how advanced we may be in our experience and training, is to come across the finish line upright!  We all just want to finish.  The reward of meeting a goal time is nice and beating that time is even better.  However, at the end of the day, it is all about coming out, doing the best we can, and finishing.  Regardless of how we do, we did better than those who didn't do it.  The way I think about a race is that to do it is the reward, to finish is icing on the cake, and to beat my goal time is to eat the whole cake!  Sometimes I get to eat the whole cake and sometimes I don't. So, don't let your worries about performance overwhelm you….just enjoy the ride.
Reward Yourself When It's Over
When you have completed the race, be sure to give yourself a little extra reward.  Eat, drink, and be merry!  Then go sign up for the next one…..